https://play.google.com/store/apps/details?id=plantvillage.locustsurvey&hl=en
http://www.fao.org/ag/locusts/en/activ/DLIS/eL3/index.html
AT THE END OF THE 1980S, KUWAIT WAS HIT BY A LOCUST PLAGUE. LOCALS GATHERED THE LOCUSTS TO EAT THEM FOR PROTEIN , EVEN THOUGH THE SWARMS HAD BEEN SPRAYED WITH PESTICIDES.
THESE LOCUSTS CONTAINED CHEMICAL RESIDUES, INCLUDING PHOSPHOROUS ,
HUNDREDS DIED DUE TO KIDNEY, LIVER AND HEART DAMAGE, AND OSTEOPOROSIS.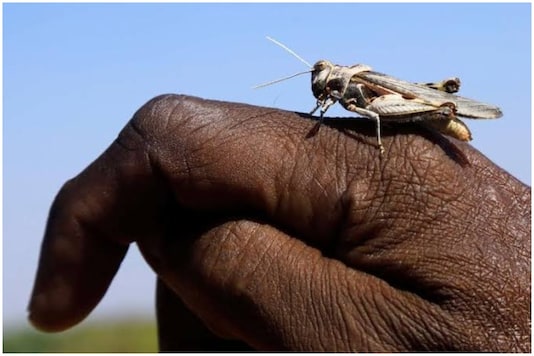 INDIA MUST DEAL WITH THIS LOCUST PROBLEM NOW. . DURING THE CORONAVIRUS PANDEMIC WE MUST NOT HAVE A FOOD PROBLEM..
MAKE A POLICY, CREATE A LOCUST MINISTRY , TO MICRO MANAGE TILL THE MENACE IF OVER ..
CREATE AN MOBIL APP.
THIS APP MUST BE ABLE TO GIVE GPS LOCATION , SO THAT HELICOPTERS CAN SPRAY TO KILL.
MAKE SURE PREGNANT WOMEN WONT MISCARRY BECAUSE OF THE SPRAY.. USE WIND TO ADVANTAGE..
THESE LOCUSTS HAVE COME FROM PAKISTAN..
A TYPICAL PAKISTANI LOCUST SWARM WILL BE 20 KMS LONG AND 3 KMS WIDE..THEY FLOAT WITH THE WIND. LOCALS EAT THEM WITH HONEY TO GET PROTEIN..
FOR KENYA, IT WAS THE WORST INFESTATION . ONE SWARM THERE WAS ESTIMATED AT 170 BILLION LOCUSTS, MARAUDING THROUGH 2500 SQUARE KILOMETERS..THEY JUST ATE ALL GREENERY AWAY.
SEVERAL FACTORS CAUSED THE MASSIVE OUTBREAK. IN MAY 2018, A CYCLONE HIT THE DESERT "EMPTY QUARTER" OF OMAN, YEMEN, AND SAUDI ARABIA. AFTER THE UNUSUAL RAINFALL, VEGETATION FLOURISHED, AND THE WELL-FED LOCUSTS INCREASED THEIR POPULATION 400-FOLD OVER 6 MONTHS.
NORMALLY, THE POPULATIONS WOULD SHRINK WHEN PLANTS DIE AFTER THE DESERT DRIES OUT AGAIN, AND TIMELY CONTROL EFFORTS CAN PREVENT POPULATIONS FROM BOOMING.
YET ANOTHER CYCLONE UNEXPECTEDLY HIT THE HORN OF AFRICA IN DECEMBER 2019 AND MORE BREEDING ENSUED. BY THE END OF THAT MONTH, GROWING SWARMS HAD ENTERED KENYA. THEY REACHED UGANDA AND TANZANIA IN THE PAST FEW DAYS.
START PLANTING NEEM TREES FOR SPRAYING ON LOCUSTS. IF LOCUSTS ARE IN A STINGING BEE HIVE AREA DRIVE THEM AWAY.. DO NOT KILL LOCUSTS AND DECIMATE BEE POPULATION..
NEEM OIL KILLS OR REPELS MANY HARMFUL INSECTS AND MITES, INCLUDING CRICKETS, GRASS HOPPERS APHIDS, WHITEFLIES, SNAILS, NEMATODES, MEALYBUGS, CABBAGE WORMS, GNATS, MOTHS, COCKROACHES, FLIES, TERMITES, MOSQUITOES, AND SCALE.
THE INGESTION OF NEEM OIL IS POTENTIALLY TOXIC AND CAN CAUSE METABOLIC ACIDOSIS, SEIZURES, KIDNEY FAILURE, ENCEPHALOPATHY AND SEVERE BRAIN ISCHEMIA IN INFANTS AND YOUNG CHILDREN .
EVERY YEAR THOUSANDS OF CHILDREN DIE IN BIHAR/ MUZAFFARPUR BECAUSE OF RAW LYCHEE FRUIT NATURAL BIO-PESTICIDE INDUCED ENCEPHALITIS, RIGHT?
NEEM OIL SHOULD NOT BE CONSUMED ALONE WITHOUT ANY OTHER SOLUTIONS, PARTICULARLY BY PREGNANT WOMEN, WOMEN TRYING TO CONCEIVE, OR CHILDREN. .
THE LOCUSTS HEARING SYSTEM, WHICH MAKES USE OF A NANOSTRUCTURED EARDRUM TO DISCERN BETWEEN HIGH- AND LOW-FREQUENCY SOUNDS.. THE MOBILE APP MUST HAVE A FACILITY TO DIRECT ULTRASONIC SOUND WHICH CONFUSE THE LOCUST SWARM..
THE LOCUSTS STEERED AWAY FROM PULSED ULTRASOUNDS THAT SIMULATED BAT ECHOLOCATION SIGNALS. WIND TUNNEL EXPERIMENTS REVEAL THAT WINGBEAT FREQUENCY OF LOCUSTS INCREASED BY 15% IN RESPONSE TO ULTRASONIC STIMULATION.
THE AVOIDANCE RESPONSE WAS OBSERVED FOR CARRIER FREQUENCIES HIGHER THAN 10 KHZ AND FOR SOUND PRESSURE LEVELS (ON AVERAGE) HIGHER THAN 45 DB SPL. LOWFREQUENCY STIMULI


THE AVOIDANCE RESPONSE WAS SUPPRESSED WHEN A 30 KHZ (NORMALLY EFFECTIVE) TONE WAS COMBINED WITH A 5 KHZ TONE (WHICH IS INEFFECTIVE ALONE). TWO-TONE SUPPRESSION ONLY OCCURRED WHEN THE LOW-FREQUENCY COMPONENT WAS 10–15 DB SPL HIGHER THAN THE HIGH-FREQUENCY TONE. THE BIOLOGICAL SIGNIFICANCE OF TWO-TONE SUPPRESSION IS DISCUSSED.
WHEN I BOUGHT MY FIRST COMPUTER IN 1982 FROM NEWYORK , IT WAS A TANDY RADIO SHACK PC2, TRS -80.

I CREATED A SOUND WHICH COULD REPEL MOSQUITOES USING SOUND TONE/ PITCH/ FREQUENCY, USING BASIC LANGUAGE PROGRAMMING ..

I USED THE " PREGNANT MOSQUITO FEARING RAPE FROM HORNY MALE MOSQUITO METHOD"
AFTER THREE YEARS SOMEONE MASS PRODUCED IT FOR MOSQUITOES , A PLUG IN DEVICE .. TODAY IT IS USED TO DRIVE AWAY RATS FROM FCI FOOD GODOWNS..


USE BIOPESTICIDE SPRAY CONSISTING OF A NATURAL FUNGUS CALLED METARHIZIUM KILLS THE LOCUSTS WITHIN THREE TO FOUR WEEKS.. THE MOST COMMONLY USED PESTICIDE, FIPRONIL, ACTS ON THE LOCUST'S NERVOUS SYSTEM.
AMERICA'S ENVIRONMENTAL PROTECTION AGENCY (EPA) CLASSIFIES FIPRONIL AS "GROUP C — POSSIBLE HUMAN CARCINOGEN"..IT ALSO WARNS THAT IT IS HIGHLY TOXIC TO STINGING HONEYBEE POLLINATORS
ANOTHER PESTICIDE, AN ORGANOPHOSPHATE CALLED FENITROTHION, IS APPROVED FOR GRAIN CROPS.
IN SOMALIA, WHICH HAS LARGE GRAZING AREAS, FAO IS INSTEAD HELPING THE COUNTRY USE BIOPESTICIDES. THEY CONSIST OF SPORES OF THE FUNGUS METARHIZIUM ACRIDUM, WHICH PRODUCES A TOXIN THAT KILLS ONLY LOCUSTS AND RELATED GRASSHOPPERS.
WHATEVER SPRAY YOU USE, PUT THE MSDS SHEETS ON THE INTERNET IN A DEDICATED WEBSITE.. -- MALATHION, FENVALERATE , QUINALPHOS, CHLORPYRIFOS, DELTAMETHRIN, DIFLUBENZURON, FIPRONIL, LAMBDA-CYHALOTHRIN . IF YOU DON'T HAVE IT MODI MUST ASK AUSTRALIAN PM NOW
https://ppp.purdue.edu/wp-content/uploads/2016/08/PPP-37.pdf
ALTHOUGH THE PESTICIDES BREAK DOWN WITHIN 1 DAY, VILLAGES MUST BE WARNED TO TEMPORARILY MOVE THEIR LIVESTOCK..
LOUD NOISES LIKE CLANGING STEEL PLATES SCARE AWAY LOCUSTS .. THE LOCUSTS HEARING SYSTEM, WHICH MAKES USE OF A NANOSTRUCTURED EARDRUM TO DISCERN BETWEEN HIGH- AND LOW-FREQUENCY SOUNDS,
WHEN HEAVY RAINS COME IN TO SATURATE THE DESERT, LOCUSTS—EVER THE OPPORTUNISTS—BREED LIKE MAD AND FILL THE SOIL WITH THEIR EGGS, PERHAPS 1,000 PER SQUARE METER OF SOIL. WHEN THOSE EGGS HATCH, THEY'LL HAVE PLENTY OF VEGETATION TO EAT, UNTIL THINGS DRY UP ONCE AGAIN
LOCUSTS DO NOT BITE PEOPLE LIKE MOSQUITOES OR TICKS SINCE LOCUSTS EAT PLANTS. WHILE IT IS UNLIKELY THAT LOCUSTS WOULD BITE, THEY MIGHT NIBBLE ON SOMEONE WITHOUT BREAKING THE SKIN OR PINCH SOMEONE TO HELP DEFEND THEMSELVES.
PERIODICAL CICADAS USUALLY COME OUT BETWEEN APRIL AND JUNE WHEN THE SOIL AROUND EIGHT INCHES BELOW THE SURFACE HITS THE MAGIC TEMPERATURE OF ABOUT 18 DEG CENTIGRADE. THE CICADAS CLIMB OUT OF THE DIRT, SHED THEIR SKIN, AND BEGIN FEEDING ON GRASS AND SHRUB ROOTS AS WELL AS TREES..
THE BEST TIME TO SPRAY LOCUSTS IS DURING THE NYMPH STAGE BEFORE THEY CAN FLY, "DURING THIS FIVE- TO SEVEN-WEEK WINDOW THEY MARCH IN BANDS OF UP TO TWO THOUSAND INSECTS PER SQUARE METRE. ONCE THEY ARE AIRBORNE CONTROL METHODS BECOME HARDER AND MORE EXPENSIVE THE MOST COMMONLY USED PESTICIDE, FIPRONIL, ACTS ON THE LOCUST'S NERVOUS SYSTEM.
IT'S SPRAYED IN STRIPS POSITIONED SO A MARCHING BAND WILL CROSS TWO STRIPS IN A 48-HOUR PERIOD GIVING THEM A LETHAL DOSE.
USING THE STRIP SPRAY METHOD HAS A FAST KNOCKDOWN, KILLING 80 PER CENT OF LOCUSTS, BUT LEAVING 95 PER CENT OF THE GROUND UNCONTAMINATED
AN ALTERNATIVE TO PESTICIDES IS A BIOLOGICAL AGENT BASED ON A NATURALLY OCCURRING FUNGUS DISCOVERED BY THE CSIRO ON DEAD LOCUSTS IN CENTRAL QUEENSLAND AUSTRALIA IN 1976.
IT'S BASED ON THE SPORES OF THE METARHIZIUM FUNGUS. ONCE SPRAYED ONTO LOCUSTS IT ATTACHES AND GERMINATES, EVENTUALLY STOPPING THE INSECTS FROM FEEDING AND REPRODUCING. PRETTY MUCH WE USE BORIC POWDER TO CRUSH THE INTERNAL SYSTEMS OF COACKROACHES.
I AM SURE MODI WILL IGNORE THIS CRUCIAL POST .. I MAY HAVE TO CHANGE MY NAME TO ANUSHKA SHARMA AND WEAR MINI SKIRT..
BELOW: MEASURE THE SOUND
CREATE ANOTHER SOUND UNDER LAB CONDITIONS, TO PROVIDE RESONANCE.
AT SEA, MACHINERY USED TO BREAK DOWN AND ENGINEERS KEPT REPAIRING IT FOR DECADES LIKE MAD MEN..
I STOPPED THE BREAKDOWN BY ELIMINATING RESONANCE VIBRATIONS BY ADDING A SMALL WEIGHT OR REMOVING A WEIGHT ..
ONCE OUR WALKIE TALKIE OF THE FORWARD STATION BROKE DOWN AND I USED THE INTERCOM. IT WAS A STRANGE TYPE OF INDISCERNIBLE SOUND ON THE BRIDGE WINGS..
THIRD MATE WAS CHEWING GUM.. I ASKED HIM TO SPIT IT INTO MY HAND, USED THE PILOT CHAIR TO STICK IT ON THE LOUDSPEAKER CONE.. AND LIKE MAGIC IT GAVE PERFECT SOUND..
THE PANAMA CANAL PILOT TOLD ME " TODAY I SAW REAL MAGIC. "..
EVEN THE SHIP AS A FULL UNIT HAS CRITICAL FREQUENCY.. WE NEVER RUN THE PROPELLER IN THIS RANGE WHICH AGGRAVATES IT.. THE SHIP WILL CRACK UP AND SINK
I DID PREDICTIVE MAINTENANCE WITH VIBRATION ANALYSIS.. COMPANY WONDERED WHY SISTER SHIPS BROKE DOWN, WHILE MY SHIP DID NOT..
IN INTRODUCED THE CONCEPT OF PREDICTIVE MAINTENANCE AT SEA.. I KICKED OUT COMPANYs ISM / SMS APPROVED PLANNED MAINTENANCE..
WHEN MY BOSSES OBJECTED I SAID " I WONT LIE LIKE OTHER CAPTAINS.. OR ELSE GIVE ME 48 HOURS IN A DAY BY CALLING GOD OR GIVE ME DOUBLE MY CREW STRENGTH "
http://ajitvadakayil.blogspot.com/2010/12/predictive-maintenance-on-chemical.html
OM FREQUENCY ( 7.83 HZ ) HARMONICS CAN SPLIT THIS PLANET.. I WONT TELL HOW..
JEWS CALL OM -- SHALOM
CHRISTIANS CALL OM-- AMEN
SIKHS CALL OM-- OMKAR
MUSLIMS CALL OM-- 786
MANTRAS CAN HEAL..
ATHARVA MEVA MANTRAS WHICH COULD MAKE YOU MAD OR KILL YOU WERE NOT PENNED DOWN IN 5000 BC--
VEDAS WHICH WERE DOWNLOADED 400 CENTURIES AGO, WAS PENNED DOWN 70 CENTURIES AGO..
http://ajitvadakayil.blogspot.com/2010/06/alpha-state-and-earths-heartbeat-of-783.html
BELOW: VEDIC SRUTIS HAVE POWER IN SOUND , NOT MEANING WHICH JUST CREATES A SENSE OF GRATITUDE..
HOWEVER THERE ARE AMAZING SRUTIS POTENT WITH MEANING..
http://ajitvadakayil.blogspot.com/2014/07/nasadiya-sukta-rig-veda-5000-bc.html
SANSKRIT SRUTIS PENNED DOWN IS USELESS.. THE AMAZING POWER IS IN THE SOUND..
MANTRAS CAN ONLY BE IN DIVINE SANSKRIT LANGUAGE NEVER ANY OTHER LANGUAGE.. ROTHSCHILD FAKE BHAKTI MOVEMENT HAD VERNACULAR MANTRAS WHICH IS USELESS ( LIKE HANUMAN CHALISA )
THAT IS WHY IN 4000 YEARS AGO, WHEN ADI SHANKARACHARYA SPREAD THE 4 VEDAS TO THE 4 CORNERS OF INDIA.. HE GAVE A FIAT-- EVERY VEDA MUST HAVE A KERALA NAMBOODIRI ( EXPERT IN ORAL ROUTE ) AS AN AUDI CD..
http://ajitvadakayil.blogspot.com/2014/01/my-visit-to-sringeri-mutt-exhuming.html
RESONANCE IS WHEN A FORCE CAUSES AN OBJECT TO "RESONATE", DUE TO EXCITATION OF ITS NATURAL FREQUENCY.
IT CAN MAKE OR BREAK.. HONEE KOH ANHONEE – ANHOEE KOH HONEE
THE VEDA SRUTI VERSES IN SANSKRIT HAD ITS OWN DIVINE MATH MULTIPLEX VERIFIERS .. VEDIC SRUTIS HAVE GOLDEN MEAN (1.618 ) , FIBONACCI SERIES , PASCALS TRIANGLE, LUCAS NUMBERS , SRI YANTRA ( GEOMETRY OF OM ), ULAM SPIRAL, PRIME NUMBER VERIFIER , ISOTOPE MAGIC EMBEDDED IN IT ..
BELOW: ALL THOSE WHO THINK CUNT RAJNEESH / OSHO WHO RIDICULED VEDA SANSKRIT SRUTIS WILL UNDERSTAND ALL THIS?
https://ajitvadakayil.blogspot.com/2020/05/rajneesh-osho-false-bhagwan-charlatan_24.html
OUR BODY AND BRAIN IS FULL OF WATER..
http://ajitvadakayil.blogspot.com/2010/11/water-valley-and-walking-on-water-capt.html
BELOW: MOB DISPERSAL BY RESONANT SOUND.
YOUR BALLS WILL GO TRRR PRRR BRRR AND YOU WILL BECOME IMPOTENT
BELOW: MOB DISPERSAL BY RADIO WAVES . USE HELICOPTERS OR DRONES
Locusts are the swarming phase of certain species of short-horned grasshoppers in the family Acrididae.
It is one of the most devastating migratory pests in the world and it is highly mobile and feeds on large quantities of any kind of green vegetation, including crops, pasture, and fodder.
When desert locusts get crowded together, they undergo a Jekyll and Hyde transformation.
Locusts differ from grasshoppers in their ability to change from a solitary living form into gregarious, highly mobile, adult swarms and hopper bands as their numbers and densities increase
The desert locust risk increases during the one-to-two-year continuum of favourable weather and habitats that support population increases during upsurges and plagues. When that happens, the desert locust becomes one of the most internationally known and important insect pests
Locusts display a striking form of phenotypic plasticity, developing into either a lone-living solitarious phase or a swarming gregarious phase depending on population density. The two phases differ extensively in appearance, behaviour and physiology.
Solitarious and gregarious locusts have clear differences in their hearing, both in their tympanal and neuronal responses. significant differences in the shape of the tympana that may be responsible for the variations in hearing between locust phases.
Locusts have a relatively stronger response to high frequencies. .
.
The desert locust Schistocerca gregaria shows an extreme phenotypic plasticity, which exhibits a trans-generational accumulation of phenotypic change that is driven by changes in population density and so is a known example of different morphologies due to epigenetics . The two extreme phenotypes are called the solitarious and gregarious phases and they differ extensively in behaviour, physiology and morphology .
In their solitary phase, locusts are unassuming insects. ... The insects transform into what's known as their gregarious phase. Gregarious locusts are colorful, move faster, and are attracted to other locusts. It is in this phase that locusts form the oppressive swarms that can blacken the skies and decimate crops.
At low population densities, locusts tend to exist in the solitarious phase. They are cryptic in coloration and behaviour, moving infrequently and with a characteristic creeping gait . Under most circumstances, they actively avoid other locusts, dispersing themselves widely in the environment. When they undertake long-distance flights, they do so under the cover of darkness at night . An increasing population density, which leads to forced contact with other locusts, triggers the transformation to the gregarious phase.
Gregarious locusts are highly active, conspicuous in both behaviour and appearance with aposematic coloration as larvae . Most importantly, they actively aggregate into large migratory swarms that may ultimately consist of billions of individuals.
Phase change in the locust is a process that occurs over many different timescales: some critical behavioural changes occur within just a few hours , changes in coloration occur over a locust's lifetime, but full morphological change requires multiple generations
The sensory systems differ between the two phases with solitarious locusts having larger eyes and longer antennae with a greater number of olfactory sensilla than gregarious locusts . Gregarious locusts, however, have a higher density of mechanoreceptors and contact-chemoreceptors on their legs
It therefore appears that sensory structures involved in detection from a distance (sight and smell) are more heavily invested in by solitarious locusts, whereas gregarious locusts have greater numbers of receptors for proximate stimuli (touch and taste). Gregarious locusts live constantly amidst a throng of other locusts, which presents considerable sensory complexity but possibly interferes with the detection of distant stimuli.
In common with other Acrididae, locusts have a well-developed auditory system that is able to determine a wide range of pitch . Unlike other grasshoppers, however, desert locusts do not sing or apparently detect mates through sound.
Locusts will take evasive action when flying in response to hearing the ultrasonic calls of hunting bats , and there are reports that the flight sound of fellow swarm members is a strong stimulus for locusts on the ground to take wing —there is, however, no one clear reason for audition in locusts.
Nevertheless, locusts have a complex hearing organ. Locusts have two ears, located laterally on the first segment of the abdomen, often covered by the wings when resting, with the tympanal membrane on the outer surface The tympanal membrane constitutes the principal sound receiver; it is approximately 1.5 × 2.5 mm and partially encased in a hard, sclerotized semicircle of cuticle embedding and protecting the membrane ..
The internal surface of the membrane is backed by an air sac, which enables the ear to act as a pressure difference receiver at low frequencies. The auditory nerve is enveloped by this air sac . There are approximately 70 afferent auditory neurons forming the auditory nerve, which contains no other type of neuron, and enters the central nervous system in the metathoracic ganglion .
The life cycle of the desert locust consists of three stages, the egg, the nymph known as a hopper, and the winged adult. Copulation takes place when a mature male hops onto the back of a mature female and grips her body with his legs. Sperm is transferred from the tip of his abdomen to the tip of hers, where it is stored. The process takes several hours and one insemination is sufficient for a number of batches of eggs
The female then seeks suitable soft soil in which to lay her eggs. It needs to be the right temperature and degree of dampness and be in close proximity to other egg-laying females. She probes the soil with her abdomen and digs a hole into which an eggpod containing up to a hundred eggs is deposited.
The egg pod is 3 to 4 cm long and the lower end is about 10 cm below the surface of the ground. The eggs are surrounded by foam and this hardens into a membrane and plugs the hole above the egg pod. The eggs absorb moisture from the surrounding soil. The incubation period before the eggs hatch may be two weeks or much longer, depending on the temperature.
The newly hatched nymph soon begins to feed and, if it is a gregarious individual, is attracted to other hoppers and they group together. As it grows it needs to moult (shed its exoskeleton). Its hard cuticle splits and its body expands while the new exoskeleton is still soft.
The stages between moulting are called instars and the desert locust nymph undergoes five moults before becoming a winged adult. Immature and mature individuals in the gregarious phase form bands which feed, bask and move as cohesive units, while solitary phase individuals do not seek gregariousness
After the fifth moult the insect is said to have fledged but it is not yet mature. It is at first soft and pink with drooping wings, but over the course of a few days, the cuticle hardens and haemolymph is pumped into the wings which stiffen them.
Maturation can occur in two to four weeks when the food supply and weather conditions are suitable, but may take as long as six months when they are less ideal. Males start maturing first and give off an odour which stimulates maturation in the females. On maturing the insects turn yellow and the abdomens of the females start swelling with developing eggs
solitary locusts nymphs and adults can behave gregariously within a few hours of being placed in a crowded situation, while it takes gregarious locusts one or more generations to become solitary when reared in isolation
The change from an innocuous solitary insect to a voracious gregarious one normally follows a period of drought, when rain falls and vegetation flushes occur in major desert locust breeding locations. The population builds up rapidly and the competition for food increases. As hoppers get more crowded, the close physical contact causes the insects' hind legs to bump against one another.
This stimulus triggers a cascade of metabolic and behavioral changes that cause the insects to transform from the solitary to the gregarious phase. When the hoppers become gregarious, their colouration changes from largely green to yellow and black, and the adults change from brown to pink (immature) or yellow (mature).
Their bodies become shorter, and they give off a pheromone that causes them to be attracted to each other, enhancing hopper band and subsequently swarm formation.
The nymphal pheromone is different from the adult one. When exposed to the adult pheromone, hoppers become confused and disoriented, because they can apparently no longer "smell" each other, though the visual and tactile stimuli remain. After a few days, the hopper bands disintegrate and those that escape predation become solitary again. It is possible that this effect could aid locust control in the future.
Locust swarms fly with the wind at roughly the speed of the wind. They can cover from 100 to 200 kilometers in a day, and will fly up to about 2,000 meters above sea level (it becomes too cold at higher altitudes). Therefore, swarms cannot cross tall mountain ranges such as the Atlas, the Hindu Kush or the Himalayas.
They will not venture into the rain forests of Africa nor into central Europe. However, locust adults and swarms regularly cross the Red Sea between Africa and the Arabian Peninsula, and are even reported to have crossed the Atlantic Ocean from Africa to the Caribbean in ten days during the 1987-89 plague.
A single swarm can cover up to 1200 square kilometers and can contain between 40 and 80 million locusts per square kilometer (a total of around 50 to 100 billion locusts per swarm, representing 100,000 to 200,000 tons, considering an average mass of 2 grams per locust). The locust can live between three and six months, and there is a ten to 16-fold increase in locust numbers from one generation to the next.
It is estimated that desert locusts consume the equivalent of their body weight each day in green vegetation. They are polyphagous and feed on leaves, shoots, flowers, fruit, seeds, stems and bark. Nearly all crops, and noncrop plants, are eaten including pearl millet, maize, sorghum, barley, rice, pasture grasses, sugarcane, cotton, fruit trees, date palms, banana plants, vegetables and weeds.
Biopesticides include fungi, bacteria, neem extract and pheromones. The effectiveness of many biopesticides equals that of conventional chemical pesticides, but there are two distinct differences. Biopesticides in general take longer to kill insects, plant diseases, or weeds, usually between 2 and 10 days.
There are two types of biopesticides - biochemical and microbial. Biochemical pesticides are similar to naturally occurring chemicals and are nontoxic, such as insect pheromones used to locate mates, while microbial biopesticides, come from bacteria, fungi, algae or viruses that either occur naturally or are genetically altered
Guaiacol is produced in the gut of Desert locusts by the breakdown of plant material. This process is undertaken by the gut bacterium Pantoea (Enterobacter) agglomerans. Guaiacol is one of the main components of the pheromones that cause locust swarming
BELOW: THE FEMALE SINGER IS CREAMING. (
LOOKS LIKE ALL KNOW THE UNDERCURRENTS OF LOVE BETWEEN US )
BELOW: MASTURBATION BY SOUND CAN CAUSE A PEACEFUL SOLITARY LOCUST CONVERT ITSELF INTO A DESTRUCTIVE GREGARIOUS LOCUST
HEY zCUNT AMBUJ SHARMA—TAKE A WEE PAINT BRUSH AND WANK THE SOLITARIOUS LOCUST'S BACK LEGS—TO CONVERT IT TO BECOME GREGARIOUS
THE USUALLY INHIBITED DESERT LOCUST SCHISTOCERCA GREGARIA, WHICH WILES AWAY THE MONTHS AS A SOLITARY, INSIGNIFICANT GRASSHOPPER CAN SHIFT INTO HORRIFYING SWARMS DUE TO A CHEMICAL SEROTONIN COMMONLY FOUND IN PEOPLE'S BRAIN.
TOUCHING A SOLITARY DESERT LOCUST ON THE HIND LEGS, OR ALLOWING IT TO SEE OR SMELL OTHER LOCUSTS, IS ENOUGH TO TRANSFORM IT INTO THE GREGARIOUS PHASE.
A SINGLE NEUROCHEMICAL - SEROTONIN – IS THE CAUSE OF AN INSTINCTIVE BEHAVIOURAL CHANGE FROM THE LOCUSTS' SOLITARIOUS PHASE TO BECOME GREGARIOUS AND FORM DISASTROUS SWARMS OF MILLIONS.
SEROTONIN (5-HYDROXYTRYPTAMINE, OR 5-HT) IS A MONOAMINE NEUROTRANSMITTER SYNTHESIZED IN SEROTONERGIC NEURONS IN THE CENTRAL NERVOUS SYSTEM (CNS) AND ENTEROCHROMAFFIN CELLS IN THE GASTROINTESTINAL TRACT OF ANIMALS INCLUDING HUMANS
IN THE CENTRAL NERVOUS SYSTEM, SEROTONIN PLAYS AN IMPORTANT ROLE AS A NEUROTRANSMITTER IN THE MODULATION OF ANGER, AGGRESSION, BODY TEMPERATURE, MOOD, SLEEP, HUMAN SEXUALITY, APPETITE, METABOLISM, AS WELL AS STIMULATING VOMITING.
KEEPING SEROTONIN LEVELS HIGH IS THE AIM OF MANY ANTI-DEPRESSANT DRUGS. SEROTONIN PROFOUNDLY INFLUENCES HOW WE HUMANS BEHAVE AND INTERACT
SO TO FIND THAT THE SAME CHEMICAL IS WHAT CAUSES A NORMALLY SHY, ANTISOCIAL INSECT TO GANG UP IN HUGE GROUPS IS AMAZING
PRIOR TO SWARMING, THE LOCUSTS UNDERGO A SERIES OF PHYSICAL CHANGES - THEIR BODY COLOUR DARKENS AND THEIR MUSCLES GROW STRONGER. THE 'PHASE CHANGE' IS AT THE HEART OF THE LOCUST PEST PROBLEM, FOR LOCUSTS ARE ONE OF THE WORLD'S MOST DESTRUCTIVE INSECT PESTS, AFFECTING THE LIVELIHOODS OF 1 IN 10 PEOPLE ON THE PLANET.
TO EFFECTIVELY CONTROL LOCUST SWARMS, WE MUST FIRST UNDERSTAND EXACTLY HOW IT IS THAT A SINGLE SHY LOCUST BECOMES A HIGHLY SOCIAL ANIMAL THAT SWARMS..
THE 'PHASE CHANGE' WAS CAUSED BY STIMULATION OF SENSORY HAIRS ON THE HIND LEG OF LOCUSTS
HERE WE HAVE A SOLITARY AND LONELY CREATURE, THE DESERT LOCUST. BUT JUST GIVE THEM A LITTLE SEROTONIN, AND THEY GO AND JOIN A GANG
OF 13 NEUROCHEMICALS IN LOCUSTS THAT WERE GREGARIOUS (SWARMING FORM) AND SOLITARIOUS (NON-SWARMING), THE ONLY NEUROCHEMICAL THAT SHOWED A RELATIONSHIP WITH SOCIAL BEHAVIOUR WAS SEROTONIN.
IT WAS CLEAR THAT AS LOCUSTS SWITCHED FROM SOLITARIOUS TO GREGARIOUS, THE AMOUNT OF SEROTONIN IN THEIR CENTRAL NERVOUS SYSTEMS ALSO INCREASED
SWARM-MODE LOCUSTS HYDES HAD APPROXIMATELY THREE TIMES MORE SEROTONIN IN THEIR THORACIC GANGLIA, PART OF THE CENTRAL NERVOUS SYSTEM, THAN THEIR CALM, SOLITARY PEERS JEKYLLS.
THE FACT THAT SEROTONIN CAUSES THE TRANSITION FROM A SHY, ANTISOCIAL ANIMAL INTO A PARTY ANIMAL MEANS THAT PHARMACOLOGICALLY, GREGARIOUS LOCUSTS ARE ON ECSTASY OR PROZAC
SWARMING BEHAVIOUR IS A RESPONSE TO OVERCROWDING. INCREASED TACTILE STIMULATION OF THE HIND LEGS CAUSES AN INCREASE IN LEVELS OF SEROTONIN.
THIS CAUSES THE LOCUST TO CHANGE COLOR, EAT MUCH MORE, AND BREED MUCH MORE EASILY. GREEN LOCUSTS TURN BRIGHT YELLOW AND GAIN LARGE MUSCLES.
THE TRANSFORMATION OF THE LOCUST TO THE SWARMING VARIETY IS INDUCED BY SEVERAL CONTACTS PER MINUTE OVER A FOUR-HOUR PERIOD.
IT IS ESTIMATED THAT THE LARGEST SWARMS HAVE COVERED HUNDREDS OF SQUARE MILES AND CONSISTED OF MANY BILLIONS OF LOCUSTS.
THOUGH THERE ARE ABOUT 8,000 CURRENTLY KNOWN SPECIES OF GRASSHOPPERS, ONLY 12 FORM LOCUST SWARMS.
SEROTONIN IS TRANSFORMED TO MELATONIN ( WHICH CONTROLS REM SLEEP ) ONLY IN THE PINEAL GLAND ON RECEPTION OF LIGHT WHILE DOING SURYNAMASKAR.. DECLINE IN MELATONIN ( SUPER OXIDANT ) IS THE TRIGGER FOR THE AGEING PROCESS..
DURING REM SLEEP DMT IS RELEASED INTO THE BLOD STREAM FOR YOU TO ACCESS AKASHIK RECORDS AND BACK UP INFORMATION FROM LEFT TO RIGHT BRAIN LOBE
TO ACTIVATE THE THIRD EYE , AND PERCEIVE HIGHER DIMENSIONS , THE PINEAL AND PITUITARY GLANDS MUST VIBRATE IN RESONANCE TO CREATE A SCALAR FIELD AND PRODUCE AMRIT. ON A MICRO SCALE , THIS PROCESS IS REPRESENTED BY SAMUDRA MANTHAN.
SEROTONIN HAS THE SAME CHEMICAL STRUCTURE AS SOMA WHICH IS MENTIONED IN RIG VEDA ( 114 HYMNS DEDICATED ) SEVERAL TIMES. PINOLINE ( 6-MEO-THBC ) PRODUCED BY THE PINEAL GLAND WHILE DOING SURYA NAMASKAR RESONATES WITH HINDU KING MANTRA OM OF 7.83 HERTZ.. PINOLINE ENABLES DMT TO BECOME ACTIVE IN THE BRAIN. DMT IS THE CHEMICAL MESSENGER WHICH LINKS BODY AND SPIRIT ..
– WHEN DOING SURYANAMSKAR FACING THE LOW ANGLE SUN, SEROTONIN RECEPTORS ARE ACTIVATED BY DMT.. SEROTONIN RECEPTORS REGULATE HEART RATE , BLOOD PRESSURE, BODY TEMPERATURE AND PUPIL DIAMETER .
BRAIN FOOD DMT IS A SMALL MOLECULE THAT IS RAPIDLY TRANSPORTED ACROSS THE BLOOD BRAIN BARRIER. FAR INFRA RED ( FIR ) HELPS REMOVE TOXINS FROM THE BODY AND SPEED UP HEALING OF TISSUES/ RENEWAL OF CELLS. FIR HELPS BURN CALORIES AND REDUCE OBESITY. IMPROVED FLOW TO THE LYMPH REDUCES INFLAMMATION.
PEOPLE WHO DID REGULAR YOGA HAD SIGNIFICANTLY MORE GABA, AND HAD INCREASED MOOD AND DECREASED ANXIETY, THAN THOSE WHO DIDN'T DO THE PRACTICE AND WALKED INSTEAD. MORE THAN 40% OF THE SYNAPSES IN THE HUMAN BRAIN WORK WITH GABA AND THEREFORE HAVE GABA RECEPTORS.
GABA IS CLASSIFIED AS AN INHIBITORY NEUROTRANSMITTER, AS OPPOSED TO EXCITATORY NEUROTRANSMITTERS. GABA SLOWS DOWN NEURON FIRING. OTHER NEUROTRANSMITTERS – ADRENALINE, NOR-ADRENALINE, DOPAMINE, SEROTONIN, GLUTAMATE – HAVE AN EXCITATORY FUNCTION, I.E. THEY STIMULATE NEURON FIRING.
YOGIS CAN CONTROL LEVELS OF SEROTONIN IN THE INTESTINE, WHICH IN TURN REGULATES BOWEL MOTILITY.. SEROTONIN IS THE MAJOR HORMONE REGULATING BOWEL SENSORY AND MOTOR FUNCTION. IT IS SECRETED BY ENTEROCHROMAFFIN CELLS (ECS) OF THE BOWEL WHEN ENTERIC NERVES ARE STIMULATED.
NOT ONLY DOES SEROTONIN HAVE A DIRECT EFFECT ON THE BOWEL, IT ALSO INFLUENCES THE FUNCTION OF THE MESENTERY AS SEROTONERGIC NEURONS CONSTITUTE 2% OF MESENTERIC NEURONS .
THE BOWEL IS A TWO METRES LONG TUBE OF MUSCLE AND FUNCTIONS AT THE MOTOR LEVEL BY PERISTALSIS. IT IS SUSPENDED WITHIN THE ABDOMINAL CAVITY BY THE MESENTERY . WITHOUT THIS ATTACHMENT, IT IS POSTULATED THE BOWEL WOULD FOLD ON ITSELF AND DISRUPT TRANSIT OF BOWEL CONTENTS. STRUCTURAL CHANGES IN MESENTERY LEADS TO IBS.
HOMOSEXUALITY CAN BE CURED BY YOGA ASANAS , WHICH REDUCES SEROTONIN .
LUST IS DRIVEN BY THE DESIRE FOR SEXUAL GRATIFICATION
PEOPLE WHO SUFFER FROM OBSESSIVE-COMPULSIVE DISORDER HAVE LOW LEVELS OF SEROTONIN.
SUNNY LEONE HAS OCD, HE KEEPS WASHING HER FEET ( AND MAYBE SOME OTHER POUCH TOO )
http://ajitvadakayil.blogspot.com/2011/02/are-you-mentally-sick-capt-ajit.html
IF YOU HAVE FENUGREEK
PATTAR PARRH MAARENGA TOH THUNGGGG BOLENGA
PATHASHAALA KA BACHCHA LOG SOCHENGA, CHUTTI HOO GAYA .. YAHOOOO
http://ajitvadakayil.blogspot.com/2012/06/fenugreek-womans-best-friend-capt-ajit.html
The true incident below is in one of my old blogs which I penned 6 years ago
DIGRESSION:--
Four decades ago, when i was a young boy, I took a bus from Mangalore to Mumbai.
On the passage , the radiator of the bus cracked at midnight somewhere in the middle of no man's land.
I remember, I got hold of another youngster to help me out.
I wanted CHOONA LIME, SUGAR, FRESH MOTHER'S MILK and RAW KERALA BANANA.
I got everything except the milk.
Finally despite being threatened by the husband of a pretty young lady in burkha nursing a baby, I got the milk.
This kind and intelligent lady felt that I was doing something right,to save the situation ( in a unsafe area ) and squeezed it into a glass— despite her husband giving her HAJAAAR tough looks .
The guy whom I chose to assist me , whispered " Another woman has powder milk-- hum log maar khaane waala hai "
I said " NOPE –that will lack hormones and will NOT make heat resistant strong adhesive putty "
I made a strong adhesive solution which held the hot radiators leak till the next radiator welding workshop in a small town .
Choona was the cement.
Sugar was the binder
Hormones in fresh –repeat – fresh mother's milk did the magic catalysis --surprised?
Raw Kerala banana was the resin.
On ship's which carry corrosive salt we coat the steel of the ship's cargo hold with lime , sugar and cows milk.
After that once the salt is discharged, takes at least 300 bars of water pressure from a HP wash Kew machine to get the white compound off the rough steel surface. Such a sharp water blade can slice off a human arm clean.
Couple of years ago, I had a reader is extreme distress.
He made a URGENT comment in one of my old posts " My wife had just delivered . Her breasts are dry –HELP !"
I replied " You are lucky , that I have seen your comment. Sent everybody outside the room—have skin to skin contact , start flicking her nipples with your tongue . Once her nipples are erect, put on the baby to the nipple- milk will come out "
After 30 minutes he thanked me- " Guruji, milk is now coming out like an overflowing dam –thanks for everything"
I am NOT supposed to discuss this – this is 6200 year old Ayurveda
Same thing happened with another reader .
His wife was having first time labour problems . He called me on the phone , he was nearly faint.
I was talking to a newly married doctor couple—both gynecologists . Lovely beautiful couple, classy family.
Both were shocked to hear me tell him on my mobile phone which I set of speaker phone —send all out of the room, flick her nipples with your tongue , till they stand out like bullets . All will be fine.
Then I put off my mobile .
This doctor couple was shocked when I told them – OXYTOCIN will do the job.
The wife was very fair and her face colour became like deep red cherry. She was biting her lips furiously --I though she would bleed
Her husbands face ( equally fair skin ) became pale like a white sheet. His lips were dry .
Check out the paradox !
And then both nodded , yes we know about OXYTOCIN , but never knew that this can be done the way you told .
I replied " This is part of 6200 year old Ayurveda !"
Within 20 minutes came another call, " The baby is out !"
BELOW: DOG IS SO HAPPY THAT IT CRIES.. THIS IS CALLED CROSSING THE LINE OF PARADOX ( LAXMA REKHA ). SOMETIMES WHEN THERE IS TOO MUCH GRIEF YOU LAUGH..
THAT IS MY DAUGHER IN LAW. THE DOG DID NOT SEE HER DURING THE PANDEMIC LOCKDOWN
THIS IS MY SONs NEIGHBOURS DOG.. LOVES TO SLEEP WITH HIM-- PRANA EXCHANGE
http://ajitvadakayil.blogspot.com/2019/11/paradox-redemption-victory-in-defeat.html
COMMENTS IN THIS POST WILL NOT BE PUBLISHED
PUT FURTHER COMMENTS IN THE POST BELOW--
https://ajitvadakayil.blogspot.com/2020/05/covid-19-pandemic-sars-cov-2.html
CAPT AJIT VADAKAYIL
..